Professional Carpet Cleaning Services in Perry Hall, MD
When it comes to keeping your house or business clean and fresh, one aspect that often gets overlooked is the cleanliness of your carpets. Carpets accumulate dust, filth, allergies, and stains over time, which can have a detrimental impact on the overall appearance and indoor air quality of your room. That's where professional carpet cleaning services in Perry Hall, MD come to the rescue. With our expertise and state-of-the-art equipment, we can provide thorough cleaning that rejuvenates your carpets, leaving them looking and feeling as good as new.
The Importance of Clean Carpets
Carpets act as a filter, trapping airborne particles and pollutants that can settle deep within their fibers. Regular vacuuming can remove surface-level debris, but it's not sufficient to eliminate all the contaminants lurking within your carpets. Professional carpet cleaning goes beyond what regular vacuuming can achieve by extracting dirt, dust mites, pet dander, bacteria, and other allergens that are deeply embedded.
By investing in professional carpet cleaning services, you not only improve the appearance of your carpets but also enhance the overall indoor air quality of your space. This is particularly important for individuals with allergies, asthma, or respiratory conditions, as clean carpets contribute to a healthier living or working environment.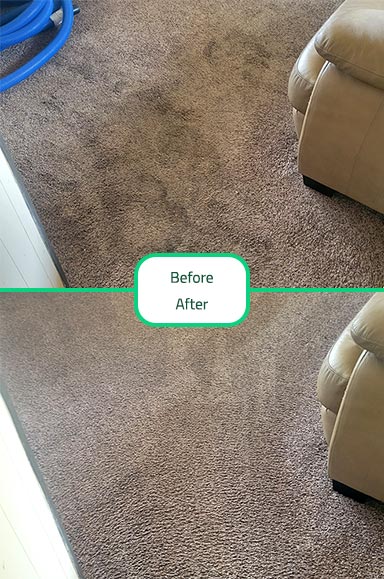 The Process of Professional Carpet Cleaning
We utilize advanced techniques and equipment to ensure a thorough and effective cleaning process. Here are the typical steps involved:
1. Pre-inspection and Assessment
Our experienced technicians will assess the condition of your carpets, identify any problem areas, and determine the most suitable cleaning method based on the carpet type, fabric, and specific requirements.
2. Pre-treatment
To loosen stubborn stains and dirt, a pre-treatment solution is applied to the carpet fibers. This solution is specially formulated to break down the bonds between dirt and fibers, making it easier to remove during the cleaning process.
3. Hot Water Extraction (Steam Cleaning)
Hot water extraction, commonly known as steam cleaning, is the most popular and effective method used by our professional carpet cleaners. It involves injecting hot water and a cleaning solution into the carpet, agitating the fibers to loosen dirt, and then extracting the mixture along with the dissolved contaminants using a powerful vacuum. This method not only deep cleans the carpets but also sanitizes them, eliminating bacteria and allergens.
4. Spot Treatment
Stubborn stains that may not have been completely removed during the initial cleaning process are individually treated with specialized stain-removal solutions. Our carpet cleaners have a range of techniques and products at their disposal to tackle different types of stains effectively.
5. Carpet Grooming and Fiber Protection
To restore your carpets' appearance and facilitate faster drying, we groom the carpet fibers using specialized tools. Additionally, we offer optional carpet protection treatments to guard against future stains and spills, keeping your carpets cleaner for longer.
6. Post-Cleaning Inspection
Once the cleaning process is complete, our technicians conduct a final inspection to ensure every aspect of the job meets our high standards. We pay attention to detail, leaving no corner uncleaned and no stain untreated.
Benefits of Hiring Professional Carpet Cleaning Services
Highly Trained and Experienced Technicians: Our team of skilled technicians is extensively trained in the latest carpet cleaning techniques. They possess in-depth knowledge of different carpet types and the most effective cleaning methods to ensure outstanding results.
Advanced Cleaning Equipment and Products: At Hippo Carpet Cleaning of Perry Hall, we invest in state-of-the-art equipment and eco-friendly cleaning products that are tough on dirt but gentle on your carpets and the environment. Our cleaning solutions are safe for your family and pets.
Personalized Service: We understand that every carpet is unique, and we approach each cleaning job with meticulous attention to detail. Our technicians tailor their cleaning methods and solutions to suit your specific carpets' needs, ensuring optimal cleaning and preservation.
Competitive Pricing: We offer competitive pricing for our professional carpet cleaning services, providing excellent value for your investment. Our transparent pricing policy means no hidden costs or surprises.
If you're in need of professional carpet cleaning services in Perry Hall, MD, look no further than Hippo Carpet Cleaning of Perry Hall. We are dedicated to providing outstanding service, exceptional results, and a healthier living or working environment for you. Don't let dirty carpets dampen the beauty of your space or compromise your well-being. Contact us today at 443-219-6008 to schedule an appointment and experience the transformative power of our carpet cleaning services.