Mattress Cleaning in Perry Hall, MD
Do you know you spend one-third of your life sleeping? That means you spend a lot of time on your mattress!
It is often easy to forget that your bed requires as much cleaning as other parts of your house, if not more. It would be best if you cleaned it often, removing mattress stains and deodorizing.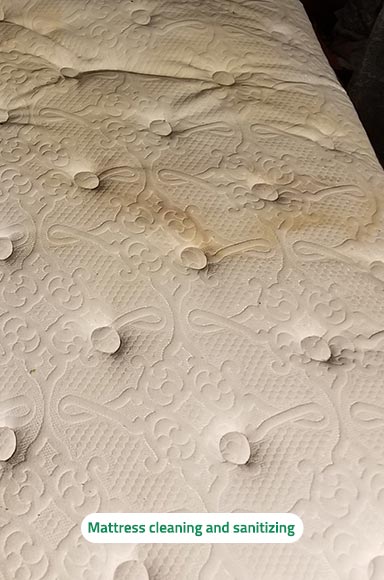 You don't have to let the task of cleaning your mattress overwhelm you, though. Carpet Cleaning Perry Hall MD's mattress cleaning service is here to help you. Our services include stain removal, dust cleaning, allergens removal, deodorization, and much more. You are assured of the best professional mattress cleaning with experienced mattress cleaners.
Benefits of Mattress Cleaning
Are you wondering why mattress cleaning matters so much? Well, there are several reasons.
Saves you money
Buying a new mattress can be a bit of an expense with the cost of mattresses nowadays. You can save yourself some cash by maintaining the mattress you have now. A good cleaning can help reinvigorate your bed. Regular deep mattress cleaning will ensure that your mattress doesn't fall apart quickly.
Removes allergens and dead skin
You sweat about half a liter every night and shed almost a gram of your skin during that period. All on your mattress! It would help if you cleaned all these out and also all the dust and dirt. You can search for professional mattress cleaning near me to get a service to help you.
Eradicates mattress stains
Mattress stains can be from food, bodily fluids, pet stains, and dirt. Without proper cleaning, these things stain your bed and even make it smell with time. You don't have to live with these stains, though. A good mattress cleaning will help you get rid of them.
What goes into cleaning a mattress?
Are you wondering what goes into cleaning your bed? Well, the first thing we would tell you is not to try to do it yourself. You would only end up spending too much, or worse, ruining your mattress.
Cleaning a mattress includes these processes:
Vacuuming
Spray Treatment
Dirt and Dust Agitation
Steam Cleaning and Hot Water Extraction
Stain Removal
Sanitization and Deodorization
If you do not understand what all these cleaning processes involve, then you can still get an excellent cleaning by employing the services of professionals. Carpet Cleaning Perry Hall MD can help you clean your mattress at any time, seven days a week.
If you are looking for the best mattress cleaning Perry Hall, MD, Carpet Cleaning Perry Hall MD is your answer. We only make use of eco-friendly products. Call us today on 443-219-6008 and get a free estimate.