Mold Remediation Services in Perry Hall, MD
Mold is a serious nuisance! A severe mold infestation may destroy your home and business and also negatively affect your health. It darkens shower grout lines, discolors walls, leaves black patches on siding, blackens decks, and develops on or rots damp wood surfaces. The best approach to mold treatment is to get it removed by professionals.
Why Choose Us to Remediate Mold?
We have certified and experienced mold remediation specialists at Carpet Cleaning Perry Hall, MD. Our staff has the technical know-how and use state-of-the-art cleaning equipment to get rid of mold effectively from your premises. Our technicians can handle any mold removal task, even with mold infestation in critical areas like attics, crawl spaces, basements, and inside the walls.
Mold is a fairly common problem today. It grows more often in humid parts of the country but can also affect homes in dryer climates. Some areas and rooms of your house are more susceptible to mold growth, particularly those with increased moisture like bathrooms, basements and kitchens. Keep in mind that mold produces microscopic airborne spores that induce runny noses, allergic reactions, sneezing, and unpleasant odors.
Mold remediation keeps the room occupants and homeowners safe by detecting large-scale mold in the home and removing it. Mold can grow in any environment where there is moisture. It can develop when there is excessive dampness in a home or business. Since newer properties are more tightly insulated, they often experience more mold problems than older homes.
Our Professional Mold Restoration Process
The mold problem you experience today isn't a lifetime issue, and with the right professionals, it will be eliminated from your property in no time. At Carpet Cleaning Perry Hall MD, we follow all IICRC protocols when removing mold and use industry-leading equipment and techniques to deliver quality services.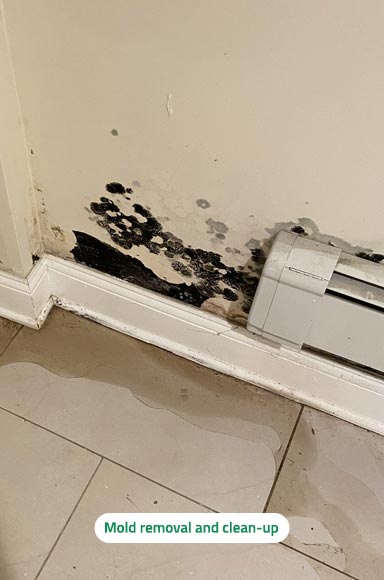 Here are the standard mold remediation steps that we follow:
Planning and preparing the work area. First, our technicians locate and inspect all the mold affected areas in your property to create an effective remediation plan. They assemble all the required supplies, including cleanup tools and mold removal chemicals (antimicrobials). All your personal items are then removed from the area, and if not possible, they are covered with heavy plastic sheets. Finally, the area is sealed off to prevent the mold from spreading to other spaces during removal.
Mold mitigation and cleanup. The mold cleanup phase depends on where the mold is located, whether on porous or non-porous surfaces. Our technicians will choose the right cleaning strategy that suits your property. Thorough cleaning is done on all the affected items such as walls, furniture, curtains, and floors.
Removal and demolition of unrecoverable materials. The type of surfaces on which the mold grows determines if the disposal is needed. Removal is usually the effective option if the mold grows on porous surfaces or materials that can't be adequately cleaned. Materials that don't require replacement are thoroughly cleaned to remove as much mold as possible.
Sanitization and disinfection. This follows the removal phase. Sanitization is done with detergents and special solutions to kill the mold. Our technicians ensure every space and surface are super clean and free of mold. They then apply antimicrobial agents on the non-porous materials like countertops, bathtubs, tiles, sinks, etc, to prevent future mold.
Mold remediation is a technical process that requires trained and experienced experts to handle it. Our mold specialists will help you clean up all the mold and give you tips to prevent mold growth from recurring in the future. Another critical step in our mold remediation process is fixing the cause of mold. All moisture and humidity concerns will be efficiently addressed by our specialists.
Call Us Now!
Talk to one of our specialists today at 443-219-6008 to discuss your problem and schedule an appointment. Our services are available 24/7, and we respond to your inquiries immediately. We are reliable and do exceptional work, especially with widespread mold in homes, commercial buildings, or public institutions around Perry Hall.