Professional Mold Testing Services in Perry Hall, MD
Carpet Cleaning Perry Hall MD is a household name in the mold testing industry, and we offer our services to residents and businesses in Perry Hall, MD. The services we provide as a professional mold testing and inspection service cater to the needs of residential homeowners, including renters and landlords, and businesses in the region. Furthermore, our experts will assist you in examining your property to ensure that we can find mold that needs to be removed so that you are not at risk of developing health problems due to mold exposure.
How To Know if You Need Mold Testing
It may be difficult to identify the presence of mold in the early stages of growth, but several other symptoms may indicate that you need to perform mold testing to see if it is a problem:
If you've recently performed a water damage remediation on your property, there is likely to be moisture residue.
If you experience allergy symptoms such as breathing difficulties, you should have your house tested for mold.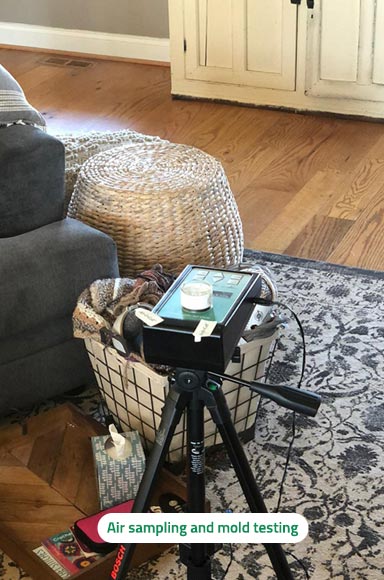 Why Should You Hire Professional Mold Testing Services?
Mold testing kits are unquestionably available; nevertheless, testing for mold without the professional testing equipment and knowledge of how to test to obtain reliable results, you may do more harm than good. This is why a professional mold testing service like ours is essential since we have the necessary equipment and experts to assist you in testing for mold. Our mold testing service will also determine the type of mold existing in your home, toxicity level, and what should be done for the mold remediation service.
Our Mold Testing Process at Carpet Cleaning Perry Hall MD
Do you believe you require mold testing in your home or office? Now is the time to call us for a professional mold testing service. Here are the steps we take when you contact us for our services:
Visual Assessment. The first stage in mold testing is to conduct an onsite inspection of the affected area to determine the amount of mold damage. A visual assessment also includes looking for any leaks and water damage.
Moisture Mapping. Our mold testing and inspection expert will conduct moisture mapping using the relevant instruments and equipment. Moisture mapping is looking around the house for spots where the construction components have been harmed by moisture.
Air and Surface Sampling. Following a visual inspection, our mold testing professionals will do air sampling to obtain further information regarding mold spores that are not apparent. Surface sampling entails collecting samples by swabbing surfaces where mold is visible.
Laboratory analysis. The collected air samples are forwarded to a laboratory for additional analysis and mold toxicity testing. With the right chemicals and laboratory tools, our experts will be able to inspect, analyze and understand the samples obtained from your property.
Provision of Mold Remediation Protocol
Following the mold sample analysis, this is the natural next step. We provide you with a mold remediation protocol as professionals. This plan includes a comprehensive and accurate mold remediation strategy. As a result of this procedure, our team of experts can now begin to work on extracting the mold from your home.
Why You Should Choose Us
Carpet Cleaning Perry Hall MD offers mold testing services for homes and businesses in Maryland. Over the years, we have earned the trust and faith of our consumers by focusing on keeping homes and businesses safe, clean, and mold-free. Additionally, our clients have faith in us because all of our processes and tools fulfill the required health and environmental standards.
Call us today at 443-219-6008 and let one of our mold experts help you. The cost of our mold testing services can be adjusted to your needs. Now you know what to do if you suspect you have a mold problem in your home or office!