Rug Cleaning Services in Perry Hall, MD
In Perry Hall, MD, finding professional area rug cleaning services can be a daunting task. However, with our exceptional expertise and commitment to delivering top-quality services, we stand out from the competition. At Hippo Carpet Cleaning of Perry Hall, we take immense pride in offering reliable, efficient, and comprehensive rug cleaning services that meet the highest standards. Our team of skilled professionals is dedicated to rejuvenating your area rugs and restoring their original beauty. With our meticulous attention to detail and advanced cleaning techniques, we guarantee customer satisfaction.
The Importance of Rug Cleaning
Rugs play a crucial role in enhancing the aesthetic appeal and comfort of any living or working space. Over time, they accumulate dirt, dust, allergens, stains, and other contaminants that can impact both their appearance and the indoor air quality. Regular vacuuming can help to some extent, but professional rug cleaning is essential to remove deep-seated dirt and rejuvenate the fibers. Ignoring the cleanliness of your area rugs can lead to a buildup of harmful substances, causing potential health hazards, and shortening the lifespan of your rugs.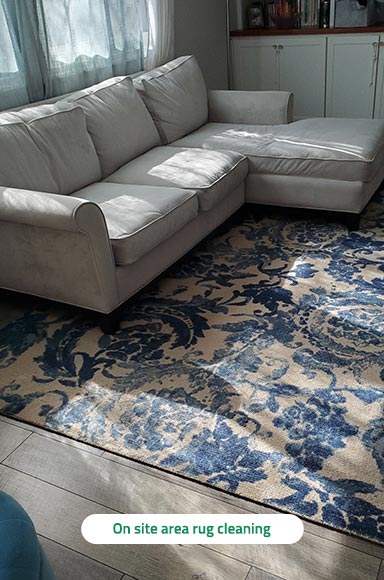 Our Specialized Rug Cleaning Process
At Hippo Carpet Cleaning of Perry Hall, we have developed a specialized rug cleaning process that ensures thorough and safe cleaning for your valuable rugs. Our highly trained technicians follow a step-by-step approach to deliver outstanding results:
Pre-Inspection: Our experts carefully examine your area rugs to determine the appropriate cleaning methods and identify any specific areas of concern. This allows us to tailor our approach to meet the unique needs of each rug.
Dusting: Before we begin the cleaning process, we remove dry soil, dust, and debris from the rug using specialized equipment. This step is crucial in eliminating particles that can cause friction and damage the rug fibers during cleaning.
Spot Treatment: Stains and spots require special attention. Our technicians use advanced stain removal techniques to treat stubborn stains and restore the rug's original appearance. We have extensive experience in handling various types of stains, including pet stains, food spills, and more.
Deep Cleaning: We employ advanced cleaning methods, such as hot water extraction, to thoroughly clean your rugs. Our powerful equipment reaches deep into the fibers, loosening and removing dirt, allergens, and other contaminants. This process effectively rejuvenates your rug while ensuring it remains undamaged.
Drying and Inspection: After the cleaning process, we carefully dry your rug to prevent mold or mildew growth. Our technicians conduct a final inspection to ensure that your rug meets our high standards of cleanliness and quality.
Benefits of Choosing Our Rug Cleaning Services
When you choose Hippo Carpet Cleaning of Perry Hall for your area rug cleaning needs in Perry Hall, MD, you can expect numerous benefits:
1. Exceptional Expertise
Our team comprises highly skilled and experienced professionals who possess extensive knowledge in rug cleaning. We stay updated with the latest industry advancements and techniques to deliver outstanding results.
2. Personalized Approach
We understand that each rug is unique and requires a tailored approach. Our experts carefully analyze your rug's condition and choose the most suitable cleaning methods to ensure optimal results without causing any damage.
3. High-Quality Products and Equipment
We utilize premium-quality cleaning products and state-of-the-art equipment to achieve deep and thorough cleaning. Our eco-friendly solutions are safe for your family, pets, and the environment.
4. Preservation of Rug's Value
By entrusting your area rug to us, you ensure its longevity and preserve its value. Our gentle yet effective cleaning methods remove dirt and stains while protecting the delicate fibers and colors of your rug.
5. Convenience and Time-Saving
Our professional rug cleaning services save you valuable time and effort. Instead of struggling with DIY cleaning methods, let our experts handle the task while you focus on other important aspects of your life.
With our commitment to excellence and the highest standards of rug cleaning, Hippo Carpet Cleaning of Perry Hall is the leading choice for professional area rug cleaning services in Perry Hall, MD. Our team of experts is dedicated to revitalizing your rugs, leaving them fresh, clean, and visually appealing. Trust us to provide the exceptional care and attention your area rugs deserve. Contact us today at 443-219-6008 to schedule an appointment and experience the difference our rug cleaning services can make.