Water Damage Restoration Services in Perry Hall, MD
Storms, rainwater, flooded rivers, and broken plumbing systems are common causes of water damage affecting homes and businesses. When water enters a property, it causes severe damage. To avoid further damage to your property, call us for emergency water removal and restoration immediately.
Unfortunately, most folks want to get back into their homes or businesses, oblivious that wooden surfaces and even walls absorb a large amount of water. The water absorbed leads to mold growth and insect infestation and deteriorates wooden and wall coverings. Besides, floodwaters are not clean and can cause your family and staff infections.
Full-Service Water Damage Clean-up & Restoration Perry Hall, MD
Carpet Cleaning Perry Hall MD provides effective water damage restoration. Our emergency flood/storm damage cleanup is available on demand. Whether a burst sewer line, frozen pipes, or leaky taps cause flooding in your home, our restoration experts will ensure a fast response and effective restoration.
There is more than just what meets the eye when there is water damage. You need to ensure you address the source of water damage to prevent damage from recurring. In addition, the restoration service has to act promptly to avoid further damage to your property. To make sure we respond promptly, we have joined forces with Flood Damage Pro - water damage restoration specialists. They are an experienced water damage company with a proven track record.
Opting for professional water damage cleanup guarantees you fast and efficient restoration. Our dedicated water damage restoration experts use the latest technology to extract water. Besides, we ensure elaborate water damage and restoration process, touching all flooded rooms. Carpet Cleaning Perry Hall MD provides an effective restoration plan, whether it's a flooded bathroom due to sewer line blockage, a flooded kitchen, basement, or even the garage.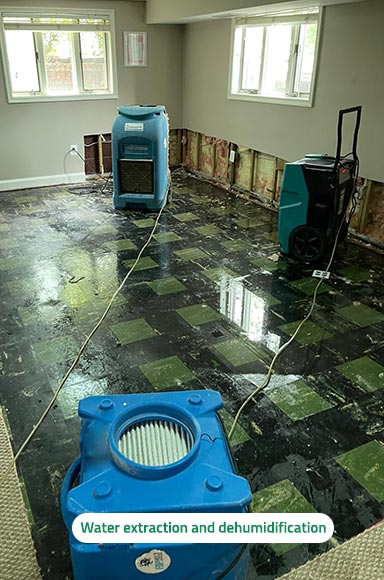 Our Professional Water Damage Restoration Services
Whether residential or commercial water damage, fixing the issue begins with inspection and assessment. Professionals will ensure adequate mitigation measures to stop water from flowing into your property.
Here are the critical water damage restoration services we offer to residential or commercial clients. Each process involves using appropriate water damage cleanup equipment and following best practices to protect your property and different surfaces.
Water Removal and Extraction
Our experienced restoration professionals use industrial-grade water pumps and extractors to ensure the fast removal of standing water. The high-powered pumps and vacuums absorb all standing water and surface water fast. Finally, we provide proper disposal of the wastewater at this stage to avoid issues with the local authorities.
Drying and Dehumidifying
After the physical extraction of the floodwater, our experts will begin the drying process using industrial-quality air movers and dehumidifying. The stage involves drying out all the materials, soaking rugs, and even targeting rooms too challenging to access during the extraction process.
Demolition Of Affected Areas
After the drying and dehumidifying process, the floor may appear dry. However, some surfaces may be wet and not easily noticeable using naked eyes.
Our water damage cleanup experts monitor the moisture levels on different surfaces and identify ones that may require demolition to remove the dripping water. Remember that porous surfaces such as insulated walls and drywall are susceptible to mold growth if not dried appropriately.
We ensure proper demolishing and target only the susceptible areas. Upon successful demolition, we extract excess water and dry the surfaces appropriately.
Sanitizing and Disinfecting
Water damage causes dampness and creates favorite conditions for mold growth and hideout for insects. Besides, flood water is never clean and can cause infections in your family. Our experts guarantee you professional water damage cleanup, which involves sanitizing and disinfecting all affected rooms and surfaces.
Final Cleanup
Finally, it is time to clean up all surfaces. Our team applies appropriate cleaning methods such as foam, abrasive, or immersion cleaning techniques to guarantee clean surfaces. Besides, we use proper cleaning detergents and leave your home sparkling clean.
Carpet Cleaning Perry Hall MD, offers experienced water extraction and cleanup professionals. Besides, we offer other surfaces such as cleaning of rugs, carpets, mattresses, upholstery, and mold cleaning.
Are you looking for a professional water damage cleaning service near you? Call us at 443-219-6008 today, your one-stop shop for all water damage and restoration services. We have qualified professionals who are ready to serve you and ensure high-level standards throughout the process.